Today/yesterday has been of the best days and don't worry I am going to tell you ALL about it! 
Anytime that Arkansas gets snow, EVERYONE freaks out and usually everything closes!!
My very best guy friend Chris was supposed to leave for the military yesterday,
BUT due to all of our snow his flight got cancelled and he will be here for another week! yayy!
Sadly he won't be here when Miss Kinsley is born but she will love her Uncle Chris so very much when he returns!!
So I got to spend my snow day with him yesterday and today, what a blessing it has been!
Yesterday we all just laid around and watched movies all day and cooked some yummy Million Dollar Spaghetti for dinner, I plan on blogging about that recipe here soon so everyone can enjoy the yumminess and THOUSANDS of calories it is!!
I was also SO lucky to have
Amy
come and guest post for me yesterday, weren't her headbands the CUTEST thing!? If you haven't checked out her blog yet, you should definately make that a priority!
Also Crafterminds was yesterday, if you haven't checked that out yet, come join us on Twitter next Monday at 3:00 pm Central Time! Its so much fun chatting with other bloggers about everything!
After the chats I always get in my "blog" mood, so I started making an inspirational notebook!!
I haven't gotten too far on it yet, but just making time to make one is nice and relaxing!
I join her linky parties every week and just love them!!
So today... I got up and auditioned for American Crafters
I love bloggers like Amy at http://www.naptimecrafters.blogspot.com/ that take the time to do fun competitions like this!!
If you haven't linked up already, GO DO IT!
Then one of my favorite bloggy friends Kassi at Truly Lovely awarded me with the Stylish Blogger Award!!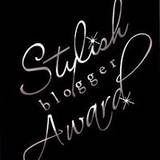 How sweet is that!?! I now have to pick some ladies to give this button out too:) Maybe you'll be the lucky one! I also am SO very excited about my blogswap with Kassi on Thursday, everyone be sure to check out our blogs!!
Want another reason why my life is so good??? Here is goes! My FIRST baby shower was on Sunday, and yes I will be blogging about that here soon, and I got a Pack and Play from my mom!!
They sold her the wrong one so today when the roads were cleared up, me and Chris went to go exchange it! I got the Graco Elyse and it is absolutely BEAUTIFUL! I am so very excited that Miss Kinsley is almost here I can hardly stand it!!!
I already set it up and I REFUSE to put it away until after she is here! Just if you were wondering I only have 47 days left!! ahhhhh:):)
Also I was so very happy when I read my comment from Camilla at http://www.rosyredbuttons.blogspot.com/ everyone needs to go check out her blog tomorrow, she is going to be featuring my Mini Window Dividers!!
Enough of my good day, tell me all about yours!
One of my favorite parts of blogging is reading all of the comments!!
You guys make my day all the time:) Thanks!!